An afternoon with Native American artist Todd Wilson
At the College of Metaphysical Studies – 18514 U.S. 19 N., Clearwater
Saturday, Sep. 20th – 1:00pm to 5:00 pm
$45.00 pre-registered – $50.00 at the door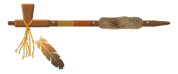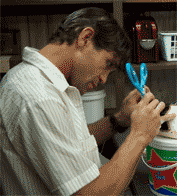 Todd was born and raised in Baltimore, Maryland and has been doing art work for over 15 yrs. He is an accomplished Lakota singer, singing in Pow-Wows and over 150 ceremonies since a young adult. He has worked as a volunteer in Washington D.C doing conservation and found his love for bead work and in the First Nations (American Indian) art .

Todd has done many programs for the United States Army such as talking with psychologists explaining the differences between magical and spiritual thinking. He has also done conferences on Native American rights and the truth about the indigenous people.
Some of his many talents are drum making, leather work, face and body castings. He has done indoor and outdoor art exhibits in Florida, Maryland and South Dakota. Todd also teaches beading, body, face and body part castings, and gives talks about the Native American traditions.

Enjoy a comfortable but extremely interesting with Todd. Here are a few of the things he will touch upon during this workshop:
| | | | |
| --- | --- | --- | --- |
| l | Drumming. | l | Magical and Spiritual thinking. |
| l | Peyote stitch feathers, (smudging feathers). | l | Cultural beliefs in today's society. |
| l | Beaded pejute (PAY-JOO-TAH) bag (personal leather bags) | l | Chanupa (prayer pipe). |
| l | Drumming. | l | Everything has a spirit. |
| l | Differences between costumes and regalia. | l | Face casting. |
| l | Music and musical instruments of the First Nation. | l | Question and answer period. |